Isabella Blow was a fashion editor, a style icon and a muse for several designers. Starting off as Anna Wintour's assistant, she eventually became editor of Tatler magazine. Blow is credited for discovering talented designers such as Philip Treacy and Alexander McQueen when she bought his Central Saint Martins graduates collection for £5000 per outfit! Isabella Blow was most known for her flamboyant outfits, which were nearly always accompanied with an exquisite Philip Treacy hat.
1. She wore hats like this
2. She discovered Philip Treacy
3. And Alexander McQueen!!!
4. This editorial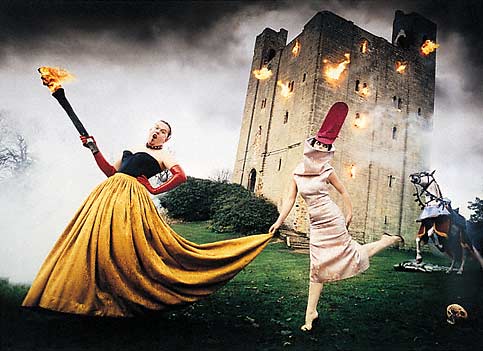 Yes that's Alexander McQueen and Isabella Blow


5. She discovered Stella Tennant
6. Because she walked in the Alexander McQueen AW94 show
7. Because she demanded that all her assistants wore bright lipstick
8. Because no one will ever compare to her street style looks
9. Without her, this probably never would've happened
10. Because she was friends with Andy Warhol
11. And she did a strip tease at his funeral
12. Because she wore a lobster hat Schiaparelli style way before Lady Gaga
13. She was the definition of individuality
14. Because she had a hat shaped as her name
15. Because Alexander McQueen dedicated his SS08 collection to her
16. She wore hats like this
17. And this
18. Because she had the weirdest but best sense of humour
"What I really like are girls in short clothes, very see-through, very sexy, where the man always wants to fuck her. I think it's because I was supposed to be a boy."- Isabella Blow


19. Because she hated being called eccentric
"Her humour and eye was eccentric, but her brain really wasn't," said Nicky Haslam.
If these reasons don't make you love Isabella Blow then you must be a crazy person!
Lots of love,
Tiana x